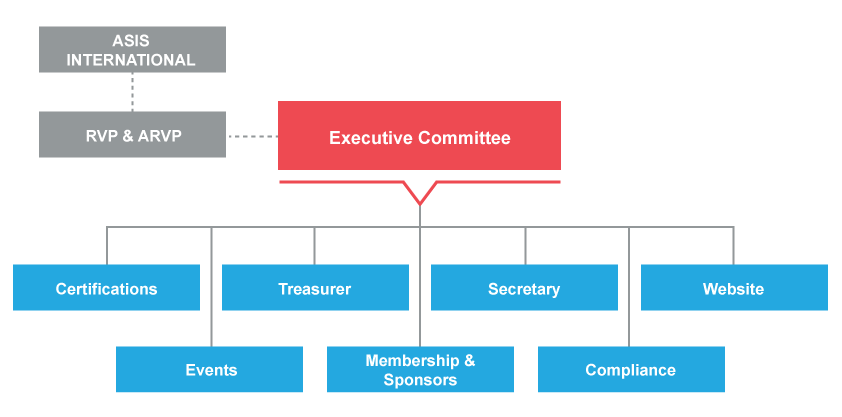 Our structure, as displayed on this page, shows the various roles performed by your Executive Committee, all voluntary members. The Executive Committee is united by a commitment to the security profession. This commitment gives us a unique ability to offer the Victorian membership appropriate support across our industry.
Our team on the ground in Victoria maintain strong local, regional, national and international ties, supporting our members and ensuring the success of our industry.
Rachell DeLuca
Chair
Rachell is Security & Risk Specialist with 23 years industry experience. She currently leads the security capability globally at Aurecon and works in a range of sectors, both locally and internationally to provide effective solutions for clients.
Rachell is passionate about the security industry and is involved with numerous peak bodies, including ASIS International as a means to support other security professionals and drive improvements and outcomes for industry issues.
Daniel Bennell
Deputy Chair
Daniel has approximately 14 years of experience in the Security industry, including operational leadership and consulting. He enjoys the challenge of finding and adapting common security principles to address new or complex risks, with a focus on Governance, Physical and Information Security domains. Daniel holds a Diploma of Security Risk Management, and a Diploma of Management.

Eddy Sorokowski CPP
Secretary
Eddy has over 35 years of experience in the Security & Risk Management Sector including Senior Management Roles, Defence and Government Security, Telstra Corporate Security and Note Printing Australia.
Currently he is Director of Security Management Professionals Pty Ltd and provides security and risk management services throughout Australia.
Eddy is a former Chair of the Victoria Australia Chapter. He holds a CPP qualification and is a leader within the security profession.

Clayton Abrahams
Executive Committee
Clayton has over 30 years' experience in the security industry as a trainer, adviser and security leader. He specialises in security risk management, security training and executive protection. In addition to leading his own organisation, Clayton is an adviser to public and private organisations on risk minimisation and operational security services in Australia and abroad.

Pascal Engler
Executive Committee
Pascal has been working in the security industry for over 20 years, he is currently working as a Security Consultant specialising predominantly in areas of security risk and development of technical and non-technical security design; and review and development of guard force operations.
After serving as Chapter Chair 2017 to 2019, Pascal continues to take an active role with the Chapter as Membership Coordinator, he also is highly involved with numerous ASIS Subject Matter Expert Communities.
Pascal holds a Diploma in Security and Risk Management and is Board Certified in ISO31000.

Nick Karas
Executive Committee
For over 20 years Nick has been Managing Director of his own security firm, Dominance Guardian Services. He has experience across areas of business operations, human resources, client acquisition and management in addition to the development of formalised systems across the operation.
Nick has formal tertiary and vocational qualifications in the social sciences, security and business operations.

Graham Manson ASM
Executive Committee
Graham has over 21 years experience in security, risk and emergency management. He is a recipient of the Australian Security Medal in recognition of his demonstrated consistent, high-level contribution to the security profession, its clients and the wider community.
Graham is also an active participant in a number of national representative bodies that included the energy, aviation, transport, banking & finance and water sectors. He is highly skilled with demonstrated experience in managing complex and diverse stakeholder groups.
Graham has formal qualifications in security, risk and safety. He has extensive experience in governance and compliance.

Laval Yu
Executive Committee
Laval is a Security Engineer at Aurecon's Melbourne Security & Risk team. He is an Electrical Engineer, with over 7 years' experience within the security industry as a systems integration and Security Consultant.
He has worked on numerous high-profile projects across Australia involving the delivery a variety of smart and secure premises in a range of sectors and differing environments. Laval is passionate about technology, developing knowledge and experience in the security field, and providing advice and delivering quality documentation that brings value to the end-users.
Laval joins the ASIS committee driven by his desire to contribute to the security industry.

Craig Buckingham
Executive Committee
Craig has over 30 years' experience in the security industry with 25 of these years in managerial roles in the private and public sectors.
Strong interest in large scale security projects and improving hardware, systems and processes for effective and efficient operations.
Holder of an Associate Diploma Social Science (Security Management) and an electrical trade qualification.
Glenn Hall
Executive Committee
Glenn has over 30 years experience within law enforcement, security operations, security risk management and investigations. Having worked as both a supplier and a client, he has an excellent overview of the security industry and the challenges faced within both roles.
Glenn is a Fellow of ISMI (International Security Management Institute) and holds a Diploma in CSMP (Corporate Security Management Professional) through this organisation. He is also a member of their Professional Assessment Board marking international assignments.
He holds formal qualifications in government security, security risk management, investigations, training and assessment and aims to complete the ASIS CPP in 2021.
Dr Matthew Ellis
Executive Committee

Scott Ainslie
Executive Committee
Scott has served in various roles in a career distinguished by the breadth and depth of his exposure to the security threat landscape.
His approach reflects extensive experience across the physical, personnel and logical security domains. His personable nature and demeanour provide an ideal platform for collaboration and negotiation environments. He has a degree in Criminology from CSU and a Masters in Cybersecurity, Strategy and Diplomacy from UNSW.
Scott is a member of multiple security, risk, intelligence, and cybersecurity-related organisations. This active membership provides an ideal platform for empowering knowledge outreach from a global cybersecurity community.
Charlie Kobak
Executive Committee